Testing the Daily Mail for impurities
If you want to check for impurities in a swimming pool you don't have to test all the water. You can just dip in a test tube to analyse a sample of the pool to get an accurate guide to the state of the rest of it.
And so it's been with the Daily Mail. When I've dipped the equivalent of a swimming pool test tube into the world's most successful online newspaper, the samples coming out have been full of impurities.
According to research by Hacked Off, the campaign for a free and accountable press, the Daily Mail has been complained about to the UK press regulator more than any other newspaper. But as I have discovered, the press regulator only rarely publish their findings.
For example, last year Romanian investigative journalist, Alina Matis and myself, conducted a line-by-line forensic analysis of just one Daily Mail story. The Mail claimed that buses and planes from Romania and Bulgaria to the UK were completely full-up and sold-out.
Alina and I compiled a dossier of 13 serious problems with this one Daily Mail story. Following our investigation, it could be categorically stated in the House of Lords that the Daily Mail story was, 'entirely untrue.'
I complained to the UK's press regulator – then called the Press Complaints Commission, now renamed IPSO, the Independent Press Standards Organisation.
The press regulator had already received over 80 complaints from members of the public against this one Mail story, but decided not to investigate. I requested that they reconsider.
The regulator agreed but only on condition that I kept quiet during the process. Seven months later and following reams of correspondence, the regulator concluded that the Daily Mail had breached their Editors Code of Practice on accuracy.
But the so-called 'independent' press regulator refused to publish the findings of their 'investigation' or to insist that the Daily Mail make any public reference to it.  (Might that be anything to do with the fact that the Editor of the Daily Mail, Paul Dacre, is also chairman of the committee that runs the regulator's Editors Code of Practice?)
Today I have published a new summary of the 13 complaints against one Daily Mail story, including a link to the full findings of the press regulator and my reaction. Click to read:
If sampling just one Daily Mail newspaper story can reveal 13 serious problems, what does it say about the rest of the paper? If the Daily Mail was a pool, I'd want to swim somewhere else.
_______________________________________________
Related stories by Jon Danzig:
To receive regular updates on this and other ongoing stories, please click the 'Like' button on my new Facebook page: Jon Danzig Writes
_________________________________________________
Jon Danzig's speech in Germany: 'Newspaper lies can cost lives'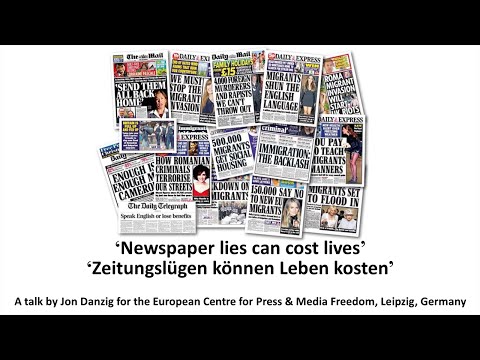 Can the #DailyMail be tested in the same way as a swimming pool? Read my Facebook blog today: http://t.co/7hDeufBFDT pic.twitter.com/VI2ym2nwBe

— Jon Danzig (@Jon_Danzig) September 27, 2015